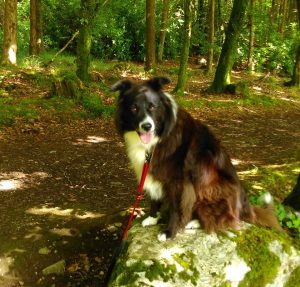 People often ask me what is Kinesiology all about and what can it do.  Well I'm going to share an example of how I used it to help myself.  One day I went for a walk with my dog Pippa up a mountain track near Ballygawley.  We hadn't walked this particular route for a few months so I was a bit out of practice.  Of course it was no bother at all to Pippa.
As soon as we started up the steep part I got a sharp pain in my left hip. I kept going expecting it would ease off but it didn't and it made walking uncomfortable and tiring. We were just about to turn back when I thought of trying a kinesiology fix. I rubbed several different lymphatic points relating to the hip muscles and tried walking a little after each one.  However I still felt the same  Then I found one small point on the lower back and as soon as I rubbed it the pain was gone!   We continued our walk for another hour and I had no more problems with my hip.
Without this fix we would definitely have turned back and missed out on a very pleasant walk.  For anybody who has niggling aches, pains or stiffness after walking running, or gardening keep reading.  When muscles are not working properly we might not even notice most of the time.  The body is very good at compensating by bringing in other muscles to help out.  But when we are working hard like walking uphill or running, aches and pains will show up. This is because other muscles and joints in the body are taking on extra work that they are not really able for.  In a kinesiology session we balance any weak muscles so that they will do their job properly and allow the whole body to work better.