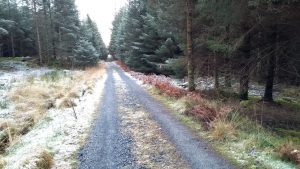 I love the month of January! Always have.  It's not that I don't enjoy the Christmas Season I really do.  I just love getting everything back to normal and starting afresh for the New Year.
Simple pleasures of January for me:
Quiet car parks
No big queues in the shops
A noticeable stretch in the evenings
Getting back to regular walking with my dog Pippa
Catching up with friends I missed over Christmas
Opportunity to plan the year ahead
January is a great month for looking ahead and making plans. I look up courses and events I want to attend this year. I look at where I am now and see the many ways I and my business have grown and developed since January 2019. I find that inspiration and new ideas come to me easily at this time of year
I hear lots of people moaning and groaning about January and wishing it were over. I look instead to the many positives about this month with its new beginnings and new hopes. Every day, week and month has its own challenges. I always aim to make each day better than the one before.